Cafe / Banqueting
In Åkrafjordtunet you will find a light and pleasant cafeteria with a capacity of 120 persons.
In the premises from its many windows you can enjoy views of fjords and mountains, while one takes a real heimalaga dinner.
Åkrafjord is widely known for its traditions and our cafeteria is renowned for its excellent cuisine.
The premises are also used widely as a function rooms for large and small teams.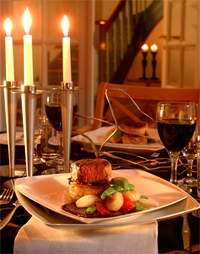 ---
Menu Åkrafjordtunet
We have sundaysbuffèt every Sunday.
REMEMBER! Lamb every Thursday!
---
COFFEE

SOFT DRINK / MINERAL WATER

Coffee
20,-
0,5 l soft drink bottle
28,-
Espresso
20,-
0,33 l soft drink bottle
22,-
Cafe Latte
25,-
0,33 l soda can
26,-
Cappucino
25,-
0,5 l water bottle
25,-
Cafe Mocha
25,-
0,33 l alcohol-free beer
25,-
Chocolate
25,-
Chocolate with cream
25,-
Tea
15,-
| | | | |
| --- | --- | --- | --- |
| SMALL DISHES | | CHILDREN'S MENU | |
| French fries | 35,- | Sausage with chips | 75,- |
| Sausage with bread | 30,- | Sausage with mashed potatoes | 89,- |
| Sausage with chips | 55,- | Chicken Nuggets with fries | 95,- |
| Sausage with mashed potatoes | 69,- | | |
| Meatballs with chips | 65,- | | |
| Meatballs with mashed potatoes | 79,- | | |
| Fish'n'Chips | 65,- | | |
| OPTIONAL ACCESSORIES | | | |
| Salad | 20,- | Pineapple | 10,- |
| Cheese | 12,- | Sweet and sour sauce dip | 5,- |
| Bacon | 15,- | Barbeque sauce dip | 5,- |
| Shrimp Salad | 15,- | | |
| HAMBURGER | | HAMBURGER PLATE | |
| Small - 100g of salad dressing and bread | 70,- | Small - 100g of fries | 95,- |
| Large - 160g of salad, dressing and bread | 95,- | Large - 160g of fries | 125,- |
| CHICKEN BURGER | | CHICKEN BURGER PLATE | |
| with salad dressing and bread | 95,- | Chicken Burger and fries | 125,- |
CHICKEN PLATE

KYLLINGNUGGETSTALLERKEN

1/2 chicken, french fries, salad and dressing

145,-

Chicken Nuggets, chips, dip, sauce, salad and dressing

145,-

LØVSTEKTALLERKEN

SEAFOOD PLATE

150g løvstek, pommes frites,

bearnaisesause, salat og dressing

135,-

Deep fried seafood, french fries, dip sauce, salad and dressing

135,-

BRITTLE BAKED Plaice

with fries, remoulade, salad and dressing

135,-

PIZZA

CHOPPED STEAK

Pepperoni, pineapple and cheese
199,-
with fries or boiled potatoes, bearnaisesause, salad and dressing
150,-
Ham, red onion, cheese and tomato
199,-
Marinated beef, onions, peppers and cheese
199,-

LASAGNA

CURED MEATS

with salad, dressing, bread and butter
125,-
with potato salad, scrambled eggs, bread and butter
150,-

SALAD

NACHOS

with chicken, dressing, bread and butter
95,-
with salsa, sour cream and guacamole
89,-
with shrimp, dressing, bread and butter
95,-
with cheese and ham, dressing, bread and butter
95,-